City Kicks Off Summer Reopening Campaign
Today, Mayor Reynard, along with Councillor Van Wallegham, Councillor McMillan, Councillor Goss, and Councillor Smith, welcomed Kenora residents, seasonal residents, neighbouring communities and visitors in a symbolic banner cutting event kicking off the 2021 Glad You Are Here campaign.
Glad You Are Here, heureux de vous accueillir, nishin keybeshy-yen, chu kontan tetsit are displayed on our welcome signs in the Harbourfront roundabout. These phrases are the campaign's focus to revive the hustle and bustle of the Harbourtown Centre and encourage everyone to return to Kenora for shopping and dining.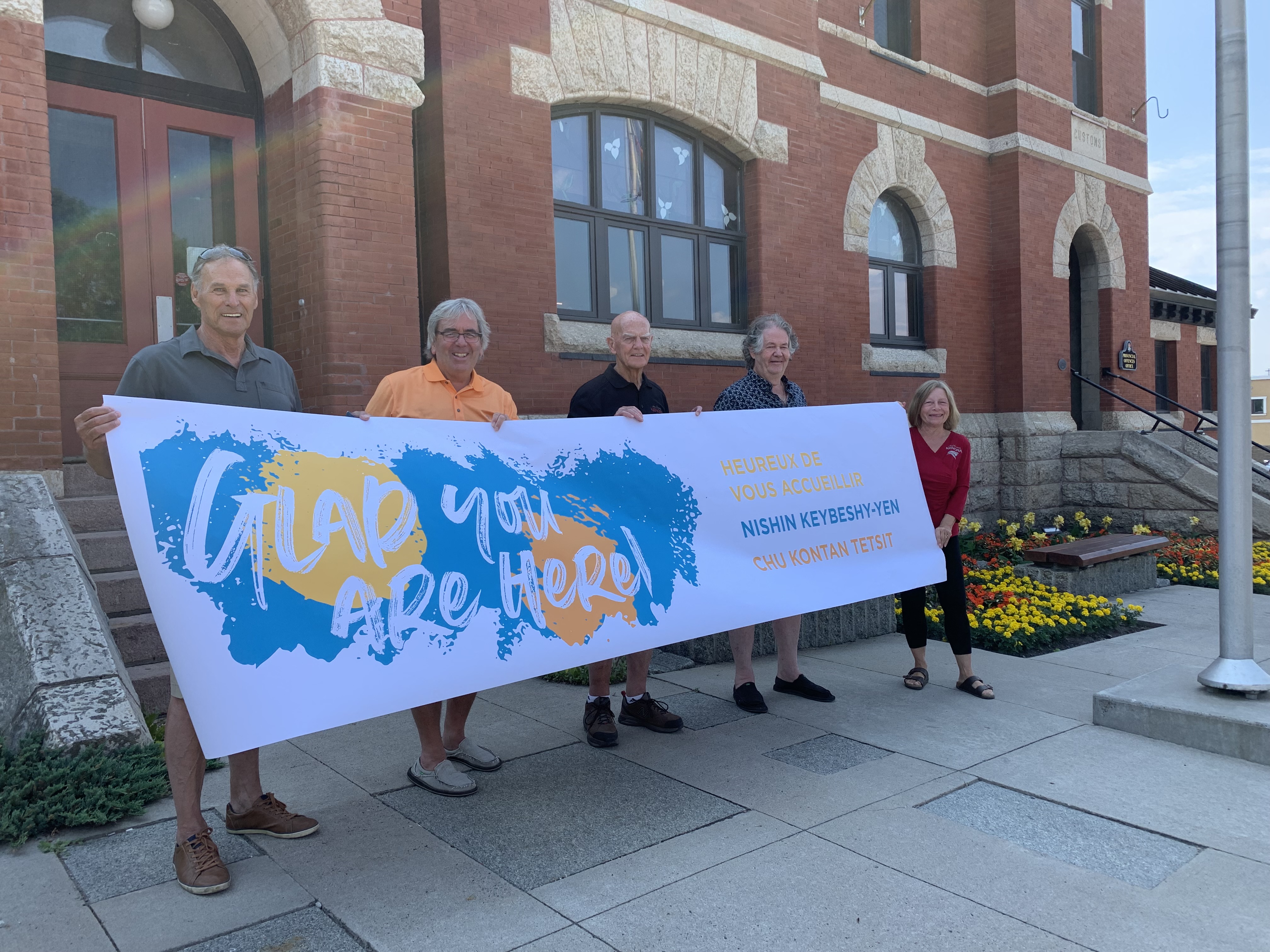 To support local businesses through reopening, Council has approved free parking in the Harbourtown Centre for the month of July. The pop-up patio program has provided support for restaurants as they open to outdoor dining. The City of Kenora is working alongside the Kenora and District Chamber of Commerce and the Kenora Hospitality Alliance to host two Main Street Markets on July 17th and August 14th.
"It's an exciting time when we can officially welcome everyone to our community," said Mayor Daniel Reynard. "I encourage you to take a stroll and browse through downtown now that we can. Our businesses have been eagerly waiting for this opportunity to welcome you."
For more things happening in Kenora, check out the Ken and Nora on Instagram and Facebook. They will keep you up-to-date on what's new, where to eat, where to shop and must-see places! Tune in to the City social media pages to see weekly updates. You can expect to see special Glad You Are Here messages from businesses too, like this one from Weekend Adventure + Tagg's Source for Sports: "We would like to thank all of our customers for their continued support and welcome our Kenora residents, seasonal residents and visitors back to in-store shopping. We are glad you are here!"
The event today aligns with the continued implementation of the City's Economic Recovery Plan. The plan details a roadmap to support local businesses and community members as the economy moves through the Province of Ontario's Roadmap to Reopen.
For more information on the City of Kenora Economic Recovery Plan, please contact Megan Dokuchie, Economic Development Officer.