Municipal Class Environmental Assessment Notice for McLeod Park
Schedule A+ notification
Kenora Harbourfront: McLeod Park upgrades
The City of Kenora will be making improvements to McLeod Park, located on the north end of the Harbourfront Greenbelt opposite Husky the Muskie and adjacent to Lakeview Drive, in Kenora, Ontario. The project includes the renewal of approximately 580 m2 of the current Park's footprint. Construction includes soft landscaping, hard landscaping, structural and electrical elements. The City of Kenora plans to improve the park in two Phases to enhance the visitor experience in the area as part of the long-term Harbourfront Business Development Plan. The improvements for Phase 1 include the following:
Plaza: Adjacent to parking lot and will include a pergola, bistro tables, bike racks, washroom signage, bollards and new concrete.
Logging Themed Play Area: Play area to include a seesaw, climbing posts, rolling log, clatter bridge and climbing frame.
Picnic Area: Adjacent to parking lot and will include accessible harvest tables for picnic seating, tree grove, native grasses, and McLeod Park Gateway signage.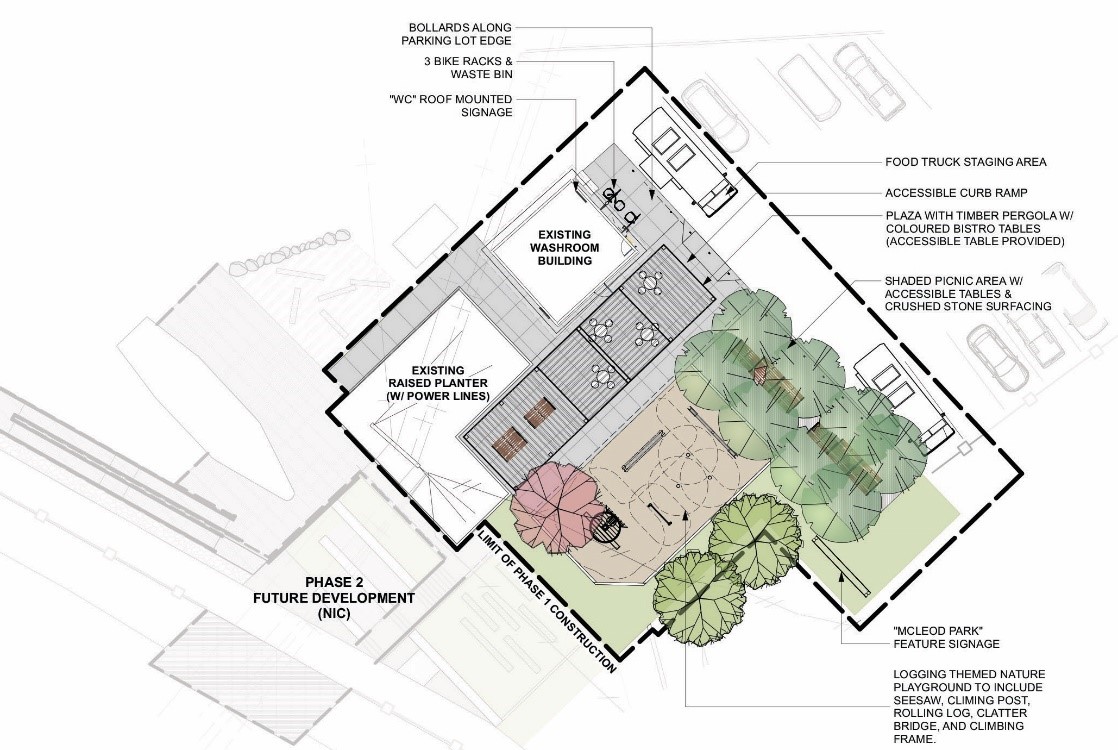 The project is subject to the Municipal Class Environmental Assessment (MCEA) planning process as it applies to municipal road and water projects. The new improvements to McLeod Park are planned under Schedule A+ of the MCEA and is a pre-approved project. This Notice is being published to advise residents of the construction in this area. A public open house was held as part of the overall Harbourfront Business Development Plan. The City of Kenora is proceeding with the construction of this project beginning in Summer of 2022.
Phase 2 of the project includes an additional fallen log forest, log terrace, amphitheatre, tugboat, access improvements, a fishing pier and stage. Phase 2 is not being completed at this time.
For further information regarding this project, please contact David Mellor, P.Eng., Project Engineer, City of Kenora, 1 Main Street South, Kenora, ON P9N 3X2, 807-467-2236.
Date of notification: September 7, 2022