The City of Kenora operates a self-sustaining water services system made up of a water treatment plant, wastewater treatment plant and sewer pump or lift stations, as well as network of water, storm, and sewer mains.
Report a problem
Report a water services system issue
For after-hours issues, please call 807-467-2080.
Wastewater treatment plant
The Wastewater treatment plant collects and disposes of sewage. Federal and Provincial regulations and procedures are followed to safely treat and discharge sewage.
Location
18 Sewage Plant Road, Kenora ON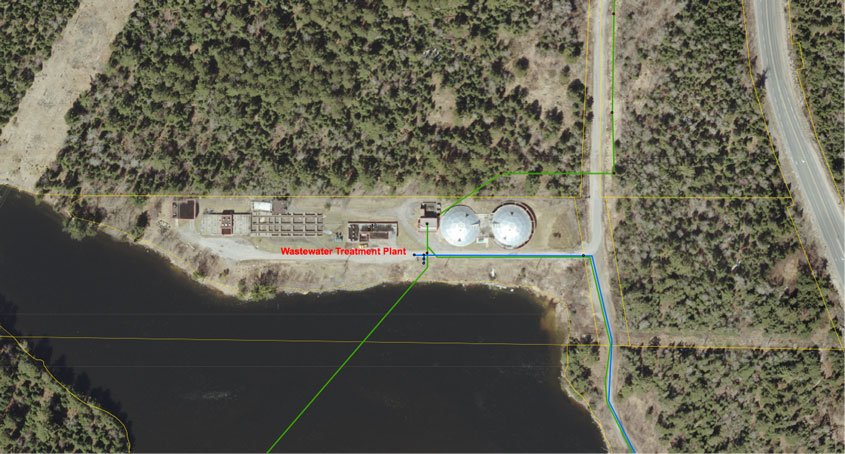 Capacity
Contact stabilization plant
Rated capacity (average) 18,180 m3/day (4.0 MIGD)
Peak 45,500 m3/day (10.0 MIGD)
Plant components
Inlet – one raw sewage influent chamber, one mechanically cleaned bar screen and one bypass manual bar screen, one Detritor for grit removal, one Parshall Flume for the flow measurement and one return activated sludge splitting chamber and influent channel to aeration tanks.
Aeration Tanks – two aeration tanks each having a aeration volume of 2,720 m3 and equipped with air diffusion system.
Intermediate Pumping Stations – an intermediate pumping station to lift the mixed liquor from the aeration tanks to the secondary clarifiers, with two 1,600 mm diameter screw pumps; and one 120 kW standby diesel generator.
Secondary Clarifiers – two circular secondary clarifiers each with a surface area of 465 m2, dome cover and scrapper and two sludge pumps.
Air Blowers – four centrifugal blowers in the control building and two centrifugal blowers in return sludge pumping station.
Disinfection facilities – UV disinfection system with a peak flow rate of 45,500 m3/day.
Outfall Sewer – one 600 mm diameter 36.5 long outfall sewer to the Winnipeg River.
Aerobic Digesters – two aerobic digesters equipped with coarse bubbled diffusion system.
Sludge Dewatering Facility – two sludge dewatering filter-belt presses with two variable speed sludge feed pumps, two supernatant pumps, and one polymer mixing/holding tank.
Sewage pumping stations
Kenora wastewater collection system also includes 64 sewage pumping or lift stations on its network scattered throughout the City including summer service on Coney Island.
With Kenora's unique geography, gravity systems are not always possible.. The pumps are the only way to maintain waste flow.
Water Treatment Plant
The water treatment plant follows Provincial legislation, regulations and policies to make sure the drinking water is safe and in continuous supply for residents, industries, and fire protection.
Our raw water source is the Lake of the Woods.
Location
9 Seventh Street South, Kenora ON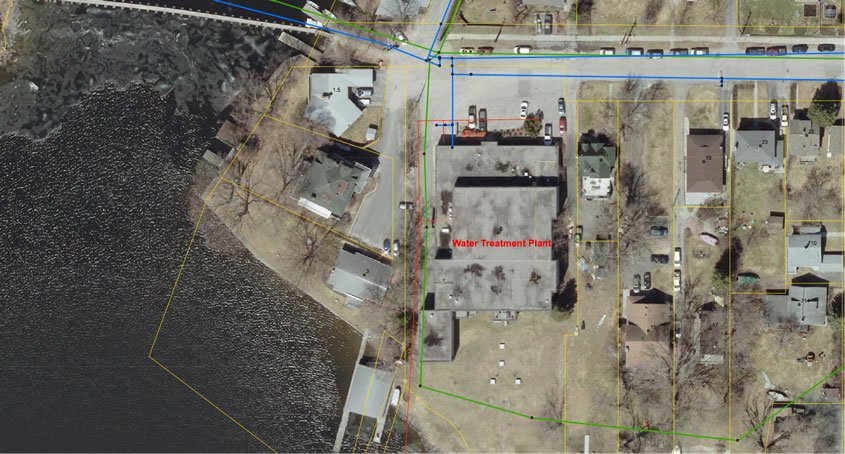 Book a tour
Call the Water Treatment Plant at 807-467-2101 to book a tour of the facility and learn why you drinking tap water is better overall than drinking bottled water.
Capacity
Installed 26,000 m3/d (5.75 MIGD)
Future 52,000 m3/d (11.5 MIGD)
Plant components
Approximately 270 m (880 feet), of 900 mm (36 inch) diameter polyethylene gravity intake complete with a fibre reinforced plastic intake elbow and crib.
A well type low lift pumping station incorporating three vertical turbine low lifts (one as standby) each rated at 13,000 m3/day (2000 IGPM), and manually cleaned polyethylene mesh screens with provision for future installation of travelling screens.
Flash mixing by means of an in-line blender or turbine at a flash mix chamber.
Two upflow solids contact type clarifiers with integral flocculation zones each rated at 13000 m3/day (2000 IGPM) or an overflow rate of approximately 50 l/m2/min (1.0 IGPM/ft2), with provision for future doubling of this rate by the addition of tube settlers.
Four rapid gravity sand and anthracite filters each rated at 150 l/m2/min (3.0 IGPM/ft2). Future expansion by rating increase or construction of two additional filters. Backwash cycle is automated and incorporates air scour surface wash.
Clearwell storage of 2,275 m3 (0.5 MIG).
Three horizontal centrifugal 150 KW (200 HP) high lift pumps (one as standby) each rated at 13,000 m3/day (2000 IGPM).
Two horizontal centrifugal 37.5 KW (50 HP) backwash pumps each rated at 20,000 m3/day (3125 IGPM).
Standby power providers by a 400 KW diesel generator to power two high lift pumps.
Chemical feed facilities for aluminum sulphate, sodium hydroxide, ammonium sulphate and polyelectrolyte, sodium silicofluoride, chlorine.
Office and laboratory facilities.
Water reports
View the water reports to learn about our water quality reports and operational plan