Official Plan and Zoning By-law Review
The City of Kenora, with the assistance of its consultants WSP, has started the review of its Official Plan and Zoning By-law. The review process will result in a new Official Plan and Zoning By-law. The process of drafting a new Official Plan is currently underway. The project has proceeded significantly slower than originally anticipated, as the City is unable to proceed until the Province of Ontario completes a review of an initial draft of the Official Plan that was submitted in September, 2021. If you wish to be notified of project updates, please see the Stay up-to-date section.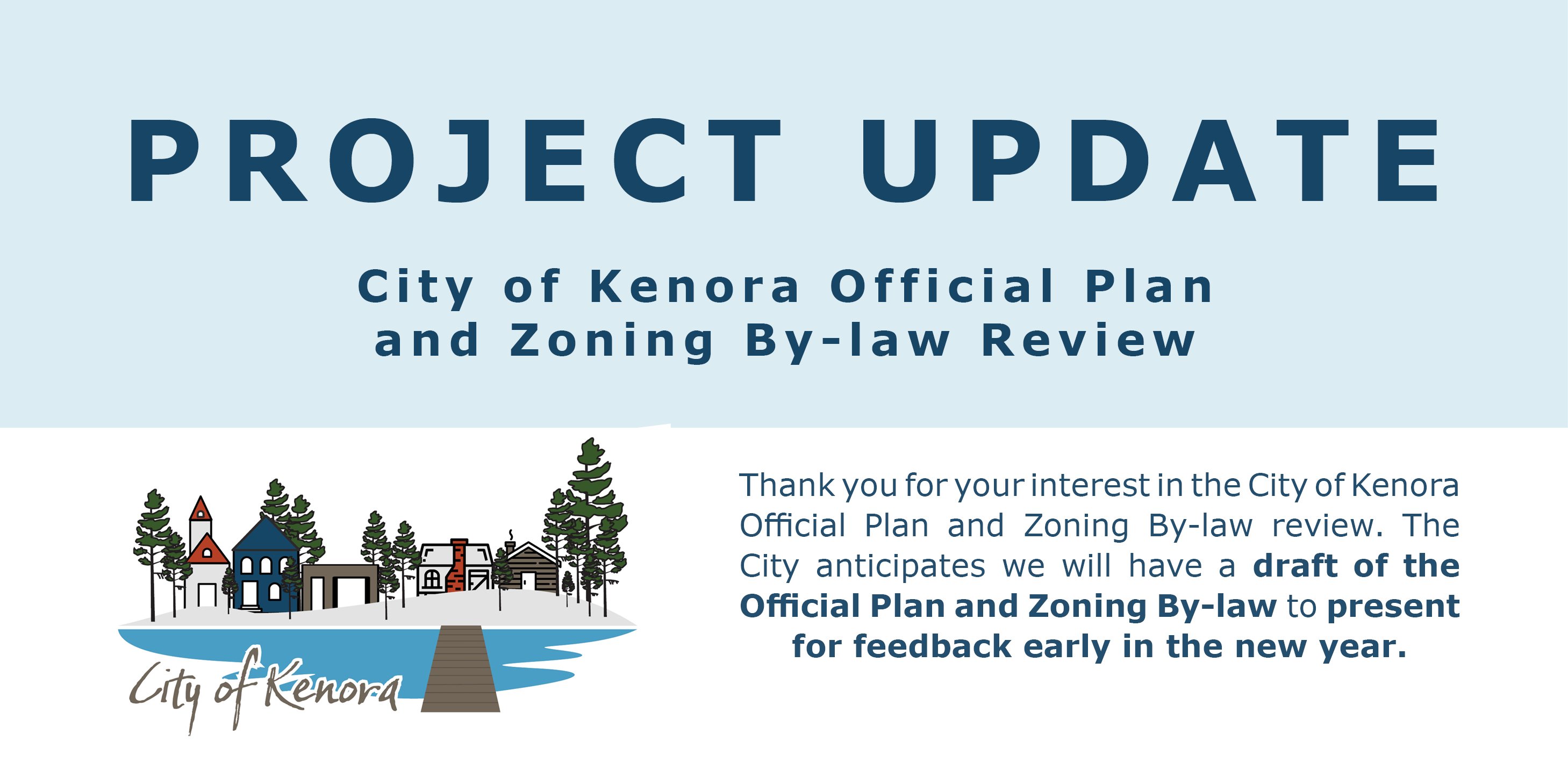 Get involved
There are ways you can get involved in the review process.
Attend virtual public meetings.
Review the reports.
View the recorded presentation.
Statutory public meeting
Stay tuned for future public meetings.
Reports
Review the reports prepared for the project.
Official Plan policy directions recommendations report
Proposed mapping amendments report
OP and ZBL review background report
Recorded presentations
View the recorded public presentation.
If you prefer, you can read the video transcript of the presentation.
How does this project affect me
Since the Official Plan and Zoning By-law guide and regulate where and how future growth and development in the City will occur, it is important to have a wide variety of input into the review of these documents to help establish a common vision.
Residents, business owners, and organizations have valuable information to share in this process…
Are you thinking about subdividing your land?
Do you think there is a need for more diverse housing options?
Do you wish you had improved access to businesses and services?
Would you like to see more greenspaces and trails in your community?
Are you concerned about protecting natural areas?
These are just a few examples of the many ways in which your community's Official Plan and Zoning By-law affects you. Please take every opportunity to be involved in the process.
Stay up-to-date
Stay tuned for future community engagement opportunities and keep updated on the project progress by signing up for the project email list with the Planning Division.
Direct any questions or information inquiries to Kevan Sumner, City Planner.
Overview
The objectives and policies of the Official Plan and the requirements of the Zoning By-law attempt to achieve a balanced approach to economic development, land development, land use, infrastructure, and resource management issues affecting the City.
The City's current Official Plan and Zoning By-law were approved in 2015. Council must undertake a review and update of its Official Plan periodically, to ensure that the objectives and policies of the Plan remain current and relevant, and meet the requirements of the Planning Act, the Provincial Policy Statement, and other provincial policies and regulations. The Zoning By-law must be updated to conform with the new Official Plan.
Throughout the review process, there will be many opportunities to provide input and participate in online and in-person engagement events.
The new Official Plan and Zoning By-law will be adopted by Council, and the Official Plan will be submitted to the Ministry of Municipal Affairs and Housing for approval. The project is expected to be completed in 2023..
Planning framework
View the infographic about planning at the provincial and municipal levels.
What is an Official Plan
The Official Plan sets out the vision, goals, objectives, and policies for growth and development within the City for the next 25 years. An Official Plan is the cornerstone for decision-making related to land use and development, and must be kept current to reflect the vision and goals the community is trying to achieve.
An Official Plan helps to ensure:
Compatibility of neighbouring land uses (e.g. residential, commercial, employment, parks and open space);
An appropriate mix and amount of development;
Effective management and/or protection of natural resources;
Protection and preservation of natural and cultural heritage resources;
Cost-effective and timely delivery of infrastructure and municipal services;
Protection of surface and groundwater; and
Sustainable economic and community growth.
Specific policies in each of these areas provide direction on how development should occur. The Official Plan also includes a series of Schedules (maps) that identify a series of land use designations where specific existing and future land uses are permitted.
What is a Zoning By-law
A Zoning By-law is a legal document and planning tool which implements the policies of the Official Plan by establishing various zones and standards that regulate land uses and how a property may be developed within each zone in the City.

A Zoning By-law establishes:
A series of zones, which are illustrated on Schedules (maps) and the different types of uses that are permitted on a property in each Zone;
Standards such as lot size, lot coverage, and setbacks which determine where buildings and structures can be located on a property; and
Other development requirements, such as those related to building height, parking and landscaping.
Zoning helps to reduce land use conflicts between incompatible land uses by prescribing the types of uses that are permitted in specific areas. Zoning can also be used to protect or enhance the character of a community or area through development standards.