Harbourfront Business Development Plan
The Kenora Harbourfront Business Development Plan sets out a master plan for the harbourfront, which was developed through community engagement and analysis. The Plan recommends attractions and amenities for both residents and visitors while also providing small business opportunities. Learn more about the goals and plans for this important economic hub.
Harbourfront area
The Harbourfront area is defined as the South Parking Lot to McLeod Park.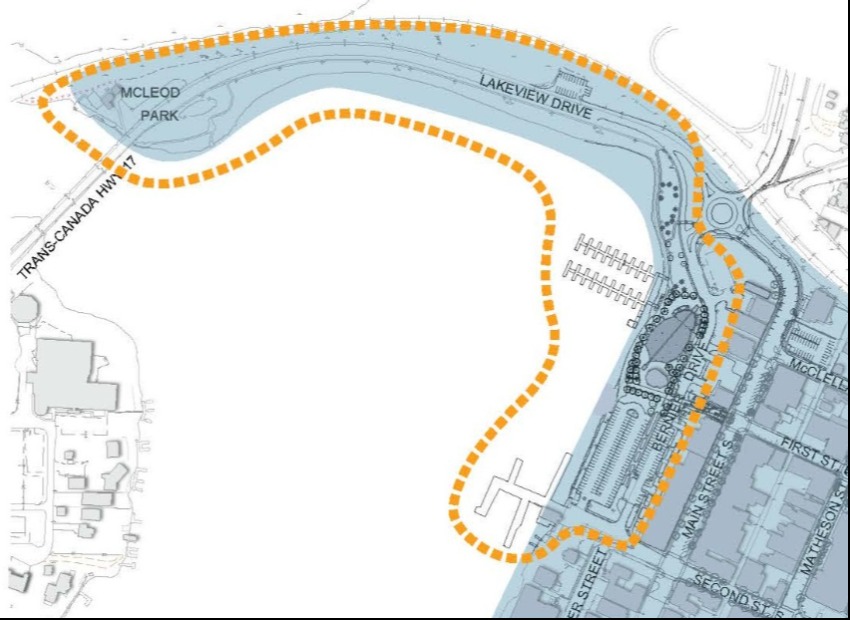 Goals
The aim of the project was to develop a master plan for Harbourfront that:
identifies business opportunities
examines improvements to the public realm
examines current parking inventory and analysis
considers the lake as a natural resource
Throughout the workshop process, we identified nine goals that informed the Harbourfront Business Development Plan so that we meet the needs of the community.
Four season destination
We plan to create a four-season waterfront attraction that will act as a central destination and cultural hub. This should include an enhanced greenbelt featuring kiosks, seating, art, recreational elements and docks for both small and large boats. It should be a comfortable destination for both locals and tourists.
Connectivity
We plan to connect people and places through the greater use of pedestrian pathways, sidewalks, a boardwalk and new bike trails and bike lanes. We aim to expand summer shuttle service by ground and water travel with improved signage to help people get to the Harbourfront area. We want to connect the area to:
downtown shopping
Tunnel Island
Laurenson's Creek
museum
art gallery
Sustainability
We plan to establish a local legacy of social, economic and environmental sustainability. This can be done by creating a commercial and residential development on Harbourfront that helps sustain business and encourage health and wellness through eco-friendly growth.
Embrace Anishinaabe and Metis culture
We plan to provide indigenous interpretive spaces with learning opportunities integrated into all of Harbourfront. This can be done by identifying Harbourfront as Treaty 3 land while celebrating indigenous culture and history.
Safety and security
We plan to change the perception and reality of safety concerns by increasing the use of Harbourfront and providing surveillance.
Opportunities of business
We plan to expand commercial opportunities through the introduction of new businesses. This can be done by providing incentives for enterprises and entrepreneurs, such as:
food trucks
culture
arts
retail
We are aiming for complete occupancy of the Harbourfront commercial spaces on Bernier Drive.
Inclusivity
We plan to create an active and lively Harbourfront that is inclusive and accessible to all ages, demographics, cultures and for locals and visitors.
Programming
We plan for this area to become a festival destination with activities, events and gatherings that occur during the day, evening and night year-round. We will do this by collaborating with local artists and cultural institutions and groups to bring more activity to Harbourfront.
A place for learning
We plant to integrate learning opportunities into play spaces, family areas and public spaces that describe land, water and indigenous culture. We hope this will become a best-practice case study for what communities can do.
Next steps
The next steps will involve detailed design work including additional consultation for certain project elements. This will be a multi-phase project as funding and partnerships are secured.
Detailed design work is supported by the Northern Ontario Heritage Fund Corporation, FedNor, and the Province of Ontario's Tourism Economic Development and Recovery Fund.