Voters elected Andrew Poirier as the City of Kenora's ninth Mayor in October 2022. His municipal political career spans two decades, holding office as a councillor from 2003 to 2009 and then from 2018 to 2022. Mayor Poirier's vision is to build a safe community and focus on new business and housing opportunities while fostering stakeholder relationships.
Contact the mayor
You can contact Mayor Poirier by email or give him a call at 807-466-2495, or schedule a personal session of respectful and productive conversation with the Mayor.
On behalf of Council, the Mayor represents the municipality at official functions and special events. You can invite the Mayor to your event or request a special occasion certificate.
Meet the Mayor sessions
Book an appointment with the Mayor to bring forth your questions, concerns and ideas. Please call the City Clerk to reserve your time.
Tuesdays
1 to 3 p.m.
30 minute sessions
2 people per deputation
Invite the Mayor
If you would like to invite the Mayor to your special event, ceremony, or announcement, you can send an invitation to the City Clerk with the following details:
Type and name of the event
Date and time of the event
Where the event will take place
Please indicate if you would like the Mayor to speak, do a presentation, or a ribbon-cutting.
Your contact information
Request a special occasion certificate
If you, or a loved one, is celebrating a major life milestone, you can request a celebratory certificate from the Mayor. Contact the Deputy Clerk if you would like to make a request.
View our Special Occasion Recognition Policy for complete details about each special recognition we award.
Types of milestones
We can issue a celebratory certificate for your 75th birthday and every five years after. You can request a certificate for your 50th wedding anniversary and again every five years after your 50th wedding anniversary (e.g., 55, 60, 65, etc.). We also issue the following special certificates:
Community services awards
Honourary citizen award
Certificate of merit
Staff and immediate family funerals.
Request a proclamation
You can request to make an important announcement, or proclamation, to the citizens of the City of Kenora, where the Mayor publicly declares the occasion of your proclamation at a meeting of Council.
Send your proclamation request to our Deputy Clerk at least two weeks in advance with the following:
Name of the organization or group;
Contact information;
Name of the proclamation;
Date of occasion (minimum of two weeks notice is required)
Purpose of proclamation, such as public awareness, remembrance, or recognition
Sample of text or example of proclamation
Proclamations are approved at the discretion of the City Clerk. Requests sponsored by a local group or organization and showing great importance to the citizens of Kenora are most suitable.
If you wish to make a presentation to Council, review our Presenting to Council page.
About Mayor Poirier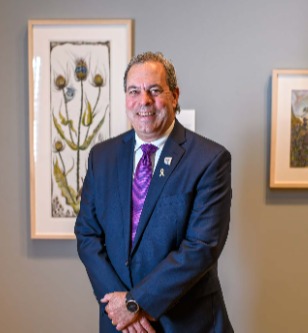 Mayor Andrew Poirier is a lifelong resident of Kenora. He has been active in municipal politics on and off for nearly two decades.
During his tenure, Mr. Poirier served as the Chair of the City of Kenora Operations Committee and a board member of the Police Services Board, the Northwestern Health Unit, Kenora Hydro (now Synergy North), and the former Kenora Municipal Telephone System.
When Mr. Poirier was elected Mayor, he held the vice-chair position for the Kenora Police Services Board and was a member of the Kenora District Services Board and the District of Kenora Home for the Aged Board.
Before retiring from the education sector in 2019, Mayor Poirier worked in public administration with four different school boards, the majority working for the Kenora Catholic District School Board. He was also a past director of the Ontario School Boards Insurance Exchange Board.
Mayor Poirier is happily married to his wife, Marj. Together they had an incredible daughter, Chloe, who sadly succumbed to childhood cancer at the age of 16 in June of 2021.
Outside of City Hall, Mayor Poirier is the treasurer of the Kenora Kinsmen Club and helps out with the annual Terry Fox Run, an event close to his heart. He also enjoys golfing, watching hockey, and of course spending time in his pontoon boat on beautiful Lake of the Woods.
Acting mayor appointments
During the absence of the Mayor, the Acting Mayor holds the power of the Office of the Mayor. Review the Acting Mayor appointments for the current term:
Robert Bernie, November 15, 2022 to July 31, 2023
Graham Chaze, August 1, 2023 to March 31, 2024
Lindsay Koch, April 1, 2024 to November 30, 2024
Barbara Manson, December 1, 2024 to July 31, 2025
Lisa Moncrief, August 1, 2025 to March 31, 2026
Kelsie Van Belleghem, April 1, 2026 to November 30, 2026