Sustainability Action Plan
The City of Kenora is developing its very first Sustainability Action Plan to guide local efforts to enhance sustainability and increase community resiliency. City staff will provide key input into the Plan, with multi-sectoral insight from the Sustainability Advisory Committee.
Get involved
There are ways you can be involved in the process:
online surveys
virtual community workshops
enter the art contest
Watch here for engagement opportunities throughout the three phases of the process and project updates as the Sustainability Action Plan develops.
Online survey
You have the opportunity to share your thoughts in the first phase of the process by taking the Phase 1 online survey.
The survey is open until February 28, 2021.
Sustainability art contest
What does sustainability mean to you in Kenora? Get creative! Capture your ideas in an original art piece for a chance to win some sustainable City of Kenora swag. Any medium and style of art will be considered.
Create your art piece and submit an image of it to us by email. Be sure to include:
the author's name
age
a title and/or short description of the piece
The contest closes on March 30, 2021.
Images should show the art piece in its entirety, as clearly as possible and not exceed 10 MB. JPG, PNG, and TIFF formats accepted.
Pieces will be judged based on the following criteria:
representation of some aspect of sustainability
reflection of Kenora's local context
creativity and/or originality
Submissions will be considered separately for youth (18 years old and under) and adults.
We are looking for images of original and local art work to showcase in the final Sustainability Action Plan and future project presentations. By submitting an image to the City of Kenora, you grant permission for the image to be shared on the City's website, project reports, and presentations. The author will be acknowledged when the image is used. Winners will be required to sign a consent form.
Project updates
The first community virtual workshop took place on February 23, 2021.
Check out this visual we created showing some of the priorities and potential partnerships highlighted in the discussion.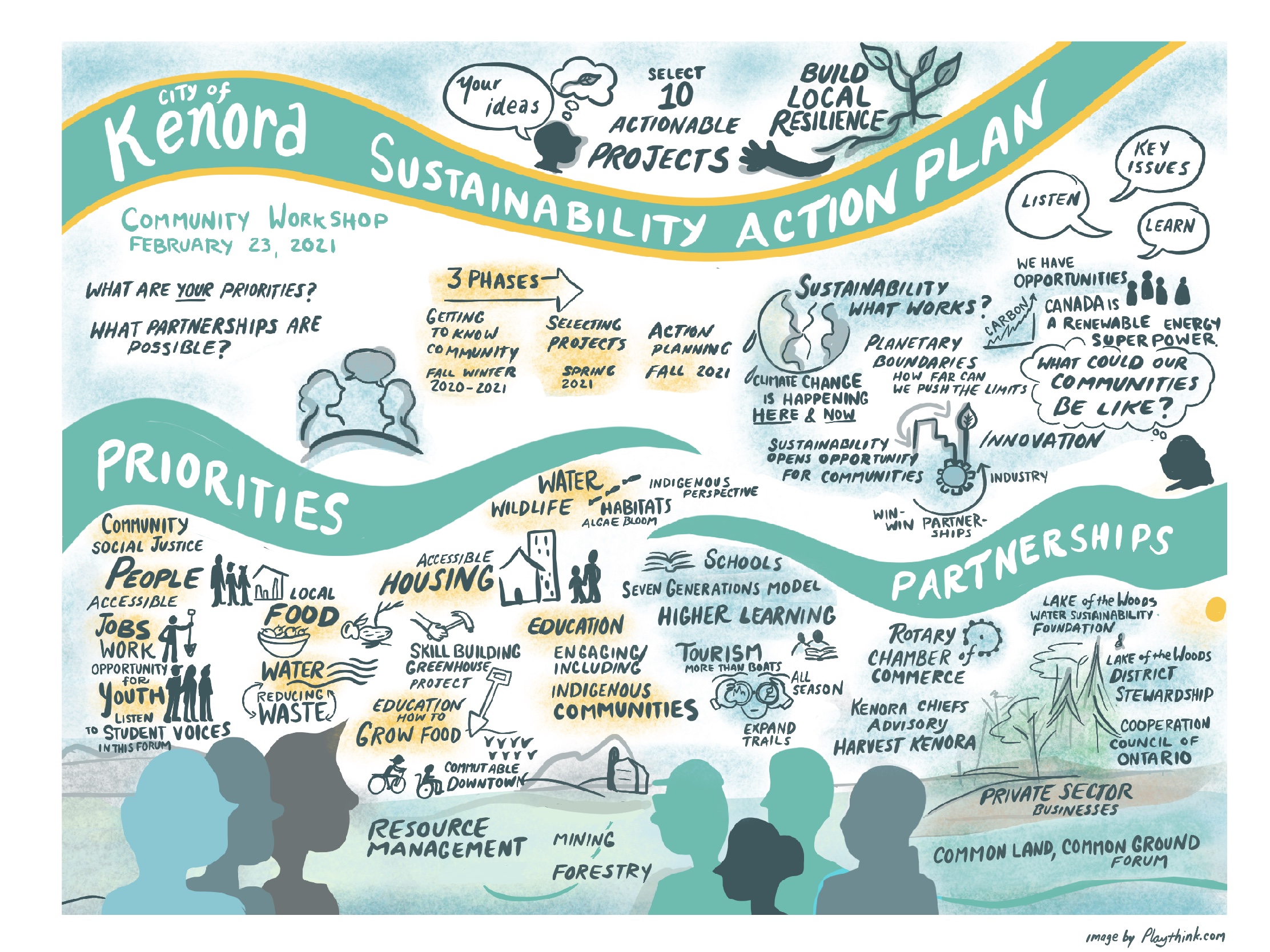 Watch the video recording of the presentation. Use the required passcode @NcBgWU5 to access the zoom recording.
For further updates, you may register with our Special Projects and Research Officer.
Project overview
The Plan will be action-oriented and include at least ten projects the City and our partners can undertake to effect meaningful change. These projects may build on existing initiatives or be brand new. We must complete the projects over the next ten years with resources that are already available or obtained easily. We aim to complete the development of the Plan by the end of 2021.
The Plan will be a guide to reduce greenhouse gas emissions, move toward more sustainable sources of energy, reduce waste, and manage the impacts of a changing climate.
Defining sustainability
We know that the term sustainability means different things to different people; for the purposes of this Plan, we are defining sustainability in the context of community actions that are:
economically viable
socially equitable
environmentally friendly