Posted on Wednesday, July 07, 2021 02:13 PM
Please be advised that the following roads are closed until further notice:
Ninth Street North, from Houghton Road to Twelfth Avenue North
Artillery Way, from Eighth Street North to Ninth Street North
The closure is necessary to allow Titan Contractors to complete a sewer and water project in the area.
Thank you for your cooperation and patience during this infrastructure project.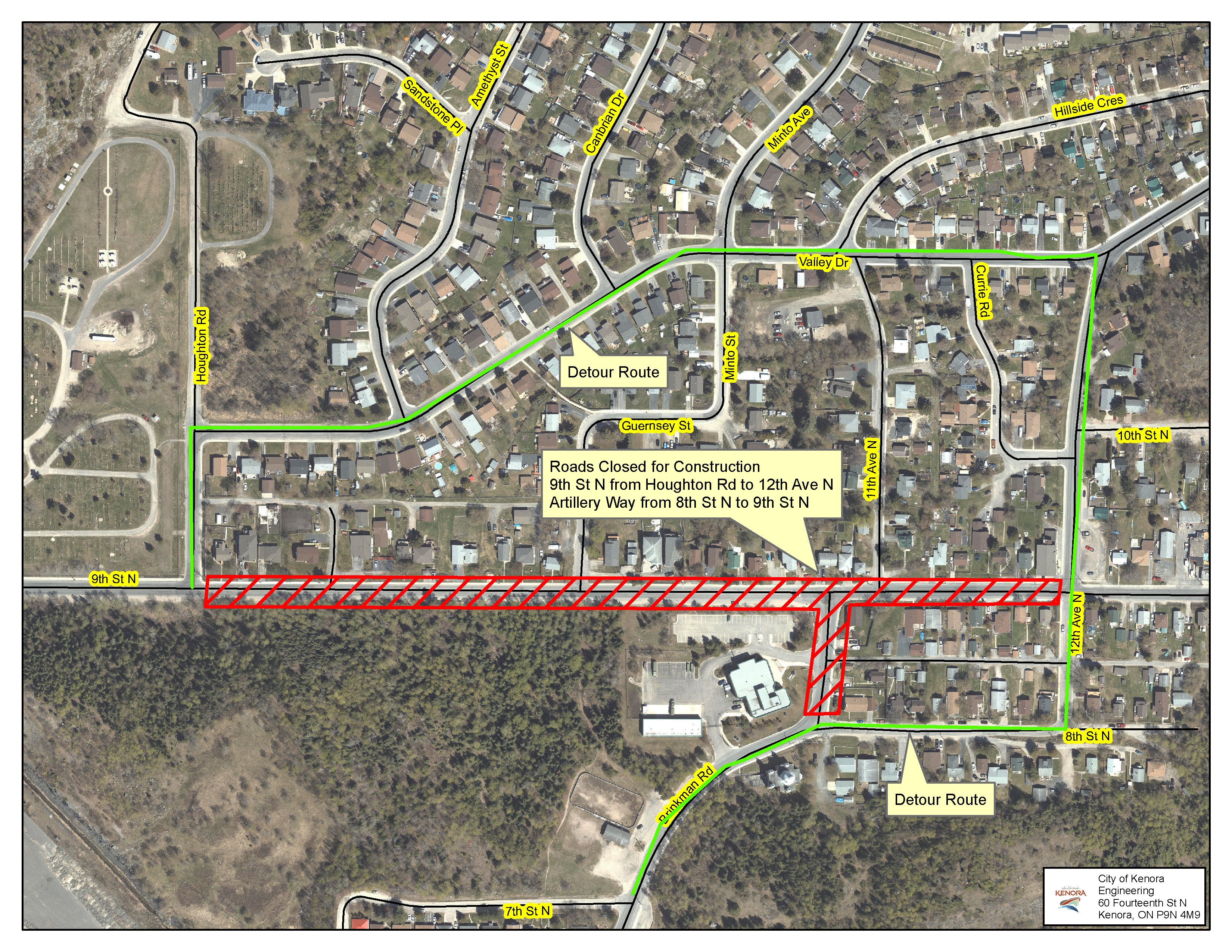 Posted on Monday, July 05, 2021 08:36 AM
Please be advised that the Transfer Station hours of operation for Saturdays are changing to 8:30 a.m. to 4:00 p.m., effective Saturday, July 10, 2021.
With this change, both Saturday and Sunday will operate with the same hours. Weekday hours remain the same, 8:00 a.m. to 5:30 p.m.
Posted on Wednesday, June 30, 2021 11:58 AM
Today, Mayor Reynard, along with Councillor Van Wallegham, Councillor McMillan, Councillor Goss, and Councillor Smith, welcomed Kenora residents, seasonal residents, neighbouring communities and visitors in a symbolic banner cutting event kicking off the 2021 Glad You Are Here campaign.
Glad You Are Here, heureux de vous accueillir, nishin keybeshy-yen, chu kontan tetsit are displayed on our welcome signs in the Harbourfront roundabout. These phrases are the campaign's focus to revive the hustle...
Posted on Wednesday, June 30, 2021 10:01 AM
Today, City Council received a presentation on the draft tourism and economic development strategy.
The draft document, created in consultation with Urban Systems, provides broader direction for tourism and economic development as well as directs the use and allocation of Municipal Accommodation Tax (MAT) revenues for a five-year period. The City of Kenora approved the implementation of the MAT to be effected October 2018 and allocated generated revenues to a reserve fund for tourism and economic...
Posted on Tuesday, June 29, 2021 02:03 PM
City Council has made a historic decision to postpone the fireworks scheduled for Canada Day and move to a day of reflection.
This decision is about letting Indigenous and First Peoples know that we see them, we mourn with them and we support them. Postponing these fireworks is about acknowledging that we need to do better as a society and a Nation.
The past year has taken an enormous toll on everyone. The scale of the pandemic crisis and the impact it is has had on each person has caused a lot of...