Posted on Monday, July 26, 2021 08:18 AM
Please be advised City of Kenora roads crew will be carrying out bridge washing during the week of July 26, 2021 starting at 8:00 a.m. each day on the following bridges:
Matheson Street CP Overpass
First Avenue South
Seventh Avenue South
Eighth Avenue South
Traffic delays can be expected.
Signs will be posted in the work area and flag persons will control traffic.
When approaching the working equipment, motorists are asked to be cautious.
This routine maintenance is necessary to clear any build-up...
Posted on Friday, July 23, 2021 04:37 PM
After a week-long stay in Kenora, the evacuees from Poplar Hill First Nation are returning home.
The Emergency Operations Centre (EOC) partners received positive feedback from Chief Comber and his community members about their experience in Kenora. Although there are challenges with congregate accommodations, they expressed their appreciation for our efforts to make their experience as positive as possible, given the situation. The EOC partners made the comfort and safety of the evacuees a priority...
Posted on Friday, July 23, 2021 10:43 AM
Please be advised that Beach Road, between 3rd Street and Bay Street, will be closed beginning Monday, July 26 until Wednesday, September 15. Local traffic will be permitted.
This temporary road closure is to allow for storm sewer and paving works by Moncrief Construction Limited.
Thank you for your cooperation and patience during this infrastructure project.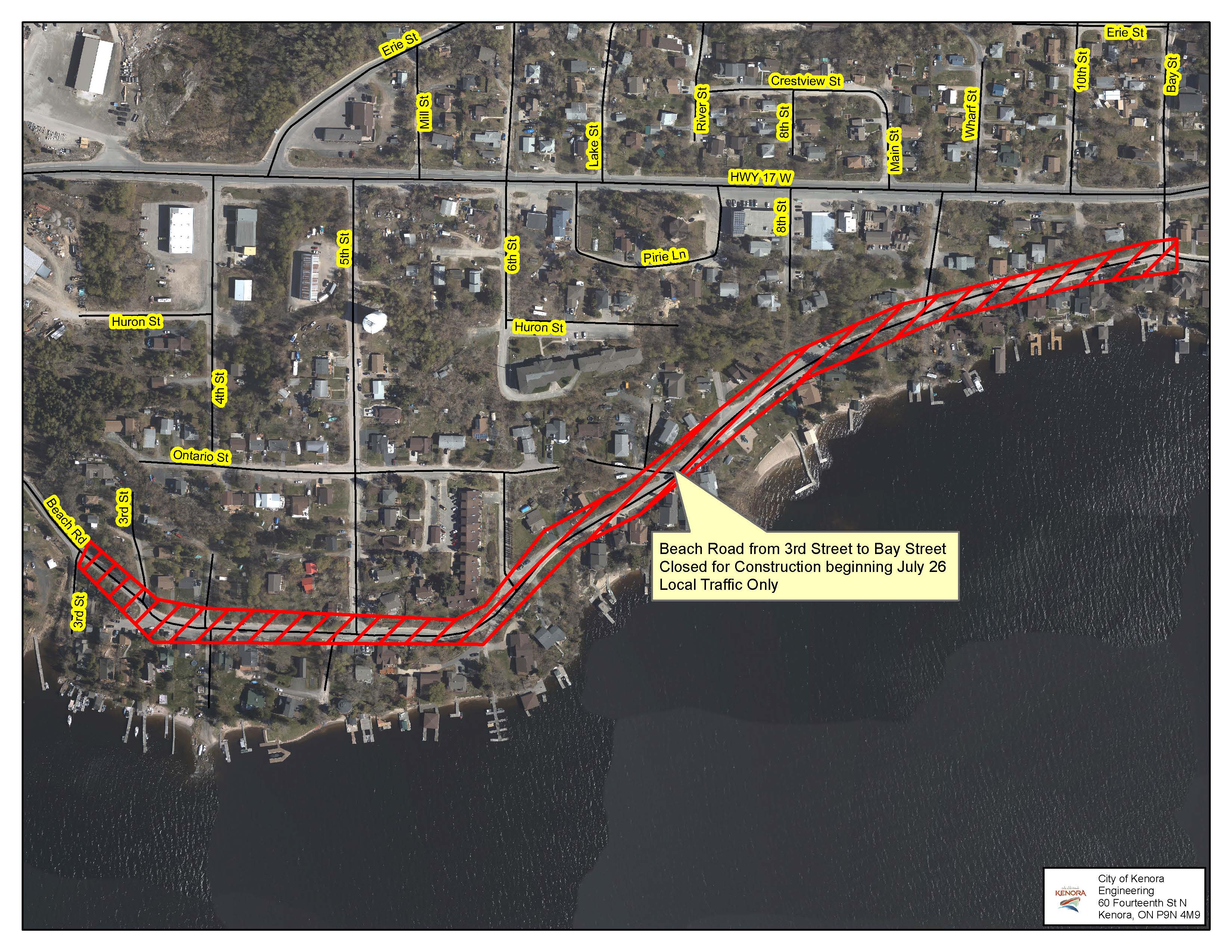 Posted on Wednesday, July 21, 2021 07:00 PM
Today Mayor and Council officially unlocked the gate to the City's first permanent off-leash dog park. The new dog park, located behind the A & W ball diamonds, answers the call from dog enthusiasts for a much needed off-leash space in the municipality.
Work began in the spring of 2021 to overhaul the 2.5 acres of vacant land creating a suitable place for dogs to socialize and exercise. This completely fenced-in site offers two separated areas for play and leash-free running, one for puppies...
Posted on Friday, July 16, 2021 05:49 PM
Please be advised that a portion of Twelfth Avenue North, from Valley Drive to Currie Road, will be closed to all traffic beginning on Monday, July 19, until further notice.
The closure is necessary for Titan Contractors to begin sewer and water works in the area.
Thank you for your patience during this infrastructure project.